Requirements for Thermal performance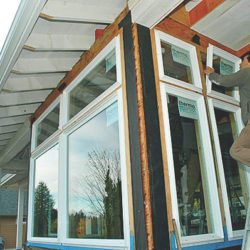 There are also requirements regarding thermal performance based on the geographic location of your home. The North American Fenestration Standards (NAFS) outline the structural performance required for any arrangement of windows, patio doors, skylights, or exterior doors for your home. Different geographic areas will require different NAFS ratings and each window requires a sticker outlining the test results for your product.
At Thermoproof, we design and build your windows with these requirements in mind. Our products consistently exceed structural and energy provision requirements, and offer industry-leading water penetration protection.
Please Note: It's important that you discuss current building code requirements with your building official and contractor.
Request a FREE quote!
Please feel free to call or email us with any questions you may have. We want to help you find exactly what you need.